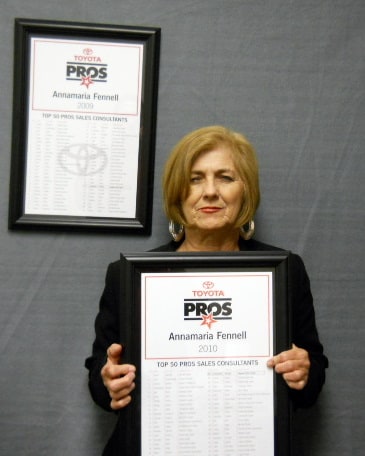 Congratulations Anna Maria Fennell!

We're very proud to announce that our very own Anna Maria Fennell won the Toyota Professional Retail Outstanding Salesperson (PROS) Top 50 Award for the 2nd year in a row! She ranked 26th in the entire South East Region.


Anna Maria has met the requirement for the TOYOTA PROS program every year running since 1997. She made the Top 50 Sales Consultants list in 2009, with the rank of #43, and now again for 2010, with the rank of #26. She has accumulated a vast amount of product knowledge over the years, which makes her a go-to resource for other team members. She really does not like for people to make a big fuss about her sucess, but achieving this award (again!) is not something that we could keep quiet about. Anna Maria is a very valuable asset to our customers, to this dealership and to TOYOTA.
About the Toyota PROS Award
Southeast Toyota, the world's largest independent distributor of Toyota and Scion, is committed to developing, recognizing, and rewarding top Sales Consultants throughout our region. As a result, Southeast Toyota launched the PROS program in 1994, and it is the only program of its type in the country. The PROS Program was specifically created to recongize Sales Consultants' commitment to longevity at the dealership, dedication to customer service, commitment to continually expand knowledge about Toyota Products, and outstanding sales ability.