Gainesville GA Dealerships Used Cars
Used Cars Near Gainesville GA

On the hunt for a used car near Gainesville GA? The first step you should take is to locate a widely trusted and reputable dealership that has everything needed to set you up with a vehicle that you and your whole family will love. Unfortunately, locating Gainesville GA dealerships for used cars can often be quite tricky. You may find yourself wondering how to tell which ones are worth a visit, and which ones will just be a waste of time. One tried and true method is to prioritize finding dealers in your area that carry a terrific stock of used cars for sale. With the right selection of pre-owned vehicles and Toyota used cars – picking out a model that includes everything you're looking for will be much easier.
Where can you locate a used car dealer near Gainesville GA that offers a robust inventory of the most popular used cars around? Heyward Allen Toyota is the answer! Located just a short drive from Gainesville and other surrounding communities – our Athens GA dealership is set up to make shopping for high-quality used vehicles simple and enjoyable the whole way through. We leave no stone unturned when putting together our selection of used cars, trucks, and SUVs. Our buying team searches all over Georgia to bring together a comprehensive stock of the latest and most in-demand used vehicles from Toyota and other brands. If you've got a particular kind of used car, truck, or SUV in mind – chances are good that we have something that will satisfy your needs and wants!
Try as they might, other Gainesville GA dealerships that offer used car just can't seem to keep up with the commitment that you'll find at Heyward Allen. Find out why we're one of the top-rated used car dealers near Gainesville GA, and pay us a visit for yourself!
Toyota Used Cars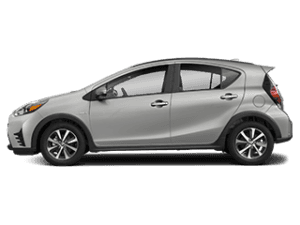 Picking a used vehicle can sometimes be rather hit or miss. Unlike new cars, used options come with a history. Because of this, it's important to be sure that the used model you choose will be reliable and able to handle the demands of daily driving. When it comes to producing reliable vehicles, nobody does it quite like Toyota. Toyota has been designing and building dependable vehicles that can stand the test of time for many years – and they've earned a reputation that other automakers struggle to match.
The variety of used Toyota vehicles that you can find at Heyward Allen Toyota include everything from full-sized pickup trucks to compact Hybrid cars. As a result, picking out a model that includes everything you need at a price that fits your budget should be easy. Ready to discover a Toyota model that is the right match for you? To begin, we invite you to look through our complete stock of Toyota used cars, trucks, and SUVs. With so many enticing options, the chances are good that you'll find something that catches your eye!
Maybe you're in the market for a used compact car with a big personality. If that sounds right to you, then the used Corolla might be just what you need. Powered by a sporty 4 cylinder engine, this car provides impressive performance in a compact package. Perhaps a car that also offers a 4 cylinder engine, but kicks the fuel economy up a notch is what you're after. If so, the used Prius is an option that you won't want to miss. This best-selling Toyota car is powered by a 4-cylinder hybrid engine, so you'll go even further on a tank of gas and save at the fuel pumps. Find these and other top-selling Toyota used cars at the premier Gainesville area used car dealer – Heyward Allen Toyota!
Toyota Finance Center
At the Heyward Allen Toyota Finance Department, you'll find everything that you might need to get into an affordable auto loan that lets you take home the model that you've had your eye on. We have a dedicated finance team that is here to assist you however you might need! They can answer any questions you may have about the process and offer advice about how best to proceed. If you're looking to take the first step in your auto financing journey, you can get pre-approved online today! Whether you have terrific credit or if your score could use a hand – you can rely on our team to help you find solutions that work for you.
Auto financing doesn't have to be a stress-filled experience! When you work with the experienced financial experts at Heyward Allen – you can experience firsthand how simple it can be. We've already helped countless local drivers secure the car loans that are the right fit for them, and we'll be happy to do the same for you!