Toyota Car Dealerships in Athens GA

Are you looking for a Toyota for sale here in Athens, GA? You've found the right dealership — our selection of brand new and used Toyota vehicles is second to none. You'll find every new make and model, and you'll love the technology, performance, and design on display at our dealership. And it's not just the cars that will grab your attention; we have a whole suite of products and services at your disposal.
Do you need a go-to location to get your tires rotated, oil changed, or to take care of your annual inspection? Our technicians are factory-certified by Toyota, and our replacement parts are certified by Toyota as well. Whether you need parts, service, or a new car, you will find exactly what you need here at Heyward Allen Toyota.
If you have any questions, get in touch — you can reach us by email, by phone, or in person at our dealership.
---
New Cars from a "Toyota Car Dealer Near Me"
If you've been looking around Toyota car dealerships in Athens, GA, you will love the selection of exciting new cars we have on hand. We have something for everyone. Whether you need a vehicle to carry the family around or you need a car for your daily commute, we have more than enough options for you. If you're ready for a test drive, let us know — you need to experience these new Toyotas for yourself.
Start off with a glimpse at our collection of compact cars. They are tech-savvy, gas efficient, and always fun to drive. Have you taken a Toyota Corolla for a test drive lately? You'll be amazed at the fashion-forward visual elements and the fun-to-drive driving interface. Choose from the affordable and efficient L configuration, the edgy and sporty manual transmission version, or the high-end XSE. You'll love whichever Corolla you drive, and we would love to show our cars to you.
If you want a spacious and luxurious sedan, look no further than the always-popular Toyota Camry. It's been a best-seller for decades, and you'll know why as soon as you climb inside. You can also choose from the full-size, ultra luxurious Avalon or the sporty Toyota 86, and you really can't make a wrong decision regardless of the car you choose.
If you're ready for a test drive, or if you have any questions about our lineup of new cars, please don't hesitate to reach out.
---
Get a Used Toyota for Sale in Athens, GA
If you love great value when you shop, we can't imagine a better place for you to search for a car than Heyward Allen Toyota. We have recent models, older cars, and everything in between. Whether you want a Camry that looks like new or a Corolla that's several years old, reliable and incredibly affordable, you'll find the right match at our used car dealership in Athens, GA.
Get a used truck! Toyota's history of reliable vehicles speaks for itself, and whether you need a truck for weekend DIY projects or your contracting job, you'll get a powerful, long-lasting pickup at our dealership. Look into a small or midsized truck in Athens, GA — they sell incredibly quickly, so if you see one for sale, don't wait to get a test drive. If you need a large, full-sized pickup truck with tons of towing capability, We have those as well!
Our used vehicles are inspected carefully, and we never put a car up for sale that we can't stand behind. We want you to head home feeling great about your purchase, and we urge you to visit our used car lots to enjoy the best used car shopping experience in Athens.
---
Get Financing from Your Nearest Toyota Dealer in Athens, GA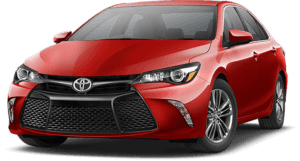 If you are seriously looking at used cars in Athens, GA, we recommend that you get set up with a loan or financing as soon as possible. It only takes a couple of minutes! You'll have to enter some basic financial and payment information, but our form is secure, and you'll get a near-instant assessment of how much credit you are approved for. It's never been easier to get approved for a vehicle loan, and we are thrilled that we can help you get a loan for the car you need.
When you get pre-approved for a loan, you don't have to worry about financing while you shop. The money is already there, and you can simply enjoy shopping around with our incredible collection of Toyota vehicles. You'll also lock yourself into a certain budget, so you don't have to worry about spending more than you can afford.
Your credit score will certainly influence the amount of credit you can get and how low or high your interest rate will be, but to be honest, we are more than happy to work with individuals of all manner of financial background. Our goal is to help people find reliable and affordable cars.
---
Service and Parts at Our Athens, GA Toyota Dealership
Buying a car is only the first step in the ownership journey — you'll still have to line up reliable vehicle servicing. Wheels need to be realigned, brake pads need changing, tires need rotating, the oil needs to be changed, and vehicles need to be inspected. Having qualified technicians on your side can be a huge asset, and we hope you'll call us when you need help with parts or service.
While you are waiting for your oil to be changed, you can enjoy hanging out at our pet-friendly waiting room; it has comfy seating, wifi, entertainment, and snacks, and you can either relax or get work done. Our technicians are all trained in a Toyota factory, and our parts and accessories are all Toyota certified. That means that whether you are ordering replacement parts or having work done on your car, you can expect the highest quality; our parts will last, and your car will always be as good as new. Be sure to stop by Heyward Allen Toyota and find your next vehicle today!