Toyota 4×4 Trucks for Sale in Georgia

Trucks for Sale Near Me
If you're ready to pick out one of the many high-quality trucks for sale near you, then make Heyward Allen Toyota your first stop. We've dedicated ourselves to being the premier truck shopping destination in the Athens area. Whether you're hoping to take home one of our best-selling Toyota 4×4 trucks for sale in Georgia or another exciting model – the team here at Heyward Allen will do what it takes to help you find a truck that the whole family will love.
When you're choosing a pickup truck – it's vital to consider what you need from it. Are you planning to so any heavy-duty tasks like towing or hauling on a regular basis? If so, you'll definitely want to consider a pickup truck with a bit more power under the hood. Features to look for would include a robust 8 cylinder engine and 4×4 all-wheel drive to help out on a range of different terrains. Of course, the usefulness of 4×4 trucks for sale isn't just limited to work purposes! If you like to hit the road in pursuit of adventure on the weekends, a Toyota 4×4 truck for sale in Georgia will make an ideal driving companion. With one of these capable vehicles by your side, you can have peace of mind that you'll be able to get to your destination – wherever that may be.
As one of the oldest and most trusted names in the automotive industry, Toyota has a knack for creating exceptional vehicles that challenge the status quo. Naturally, the selection of Toyota trucks that are available live up to this stellar reputation. Packed with the latest innovations and high-tech features, Toyota pickup trucks are built to perform well mile after mile. Ready to figure out which model you should go with? Read on to learn more about some specific models that may suit your needs and wants!
Toyota Pickup Models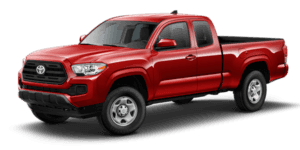 When designing and producing their vehicles, Toyota chases perfection around every turn. Their selection of exciting Toyota pickup models reflects this dedication to excellence. Toyota models are widely regarded as offering some of the most impressive reliability on the market today. When you choose to bring home a Toyota truck model – you'll be making an investment that you won't soon regret. Another huge advantage of Toyota vehicles is how well they preserve their value – this way you can get more for your truck when the time comes to trade in again.
For drivers who are on the hunt for a heavy-duty full-sized truck that can handle all kinds of demanding tasks – you won't want to miss out on the Toyota Tundra. Equipped with a powerful V8 engine and 4×4 all-wheel drive – this Toyota truck model has what it takes to get you through your most challenging driving tasks without breaking a sweat. Need a vehicle that can handle towing your boat to the lake and dropping the kids off at school equally well? If so, the Tundra might be just what you've been searching for.
Maybe you're looking for something a little bit smaller but equally impressive. In this case, the mid-sized Toyota Tacoma is a classic option that you should consider. If you're the type of person who likes to take things off the beaten path from time – you're sure to love the sporty attitude and numerous conveniences that the Tacoma brings to the table. These 4×4 trucks for sale can keep up with you – whether you're headed to the woods on a camping trip or headed off on a road trip out of state. Learn more about these exceptional Toyota pickup trucks today by visiting Heyward Allen Toyota!
Toyota Service Athens GA
Here at Heyward Allen, we're committed to helping you find a vehicle that you'll love to drive for years to come. Of course, our commitment to you doesn't end when you drive off the lot in the new car of your choice! With our state-of-the-art Toyota Service Center, we have everything required to keep your vehicles running like new. You don't have to travel far to find high-caliber auto service! Our service center features a staff of expert Toyota technicians. They've got the skills and experience necessary to perform a wide range of automotive services and repairs. Want to stop in for a quick oil change or a tire rotation? How about a new set of tires? Whatever you might require – you can trust that our team will provide you with the world-class service that we're known for. When you're looking for a Toyota dealership in Athens that makes car maintenance easy – look no further than Heyward Allen Toyota.
We understand that daily life can get busy, and things like car maintenance can often take a back seat to other concerns. To remedy this, we've made it as easy as can be to schedule a service appointment online! Simply choose the day and time that works best for you, bring your vehicle to us and let us take it from there.