Toyota Tacoma in Georgia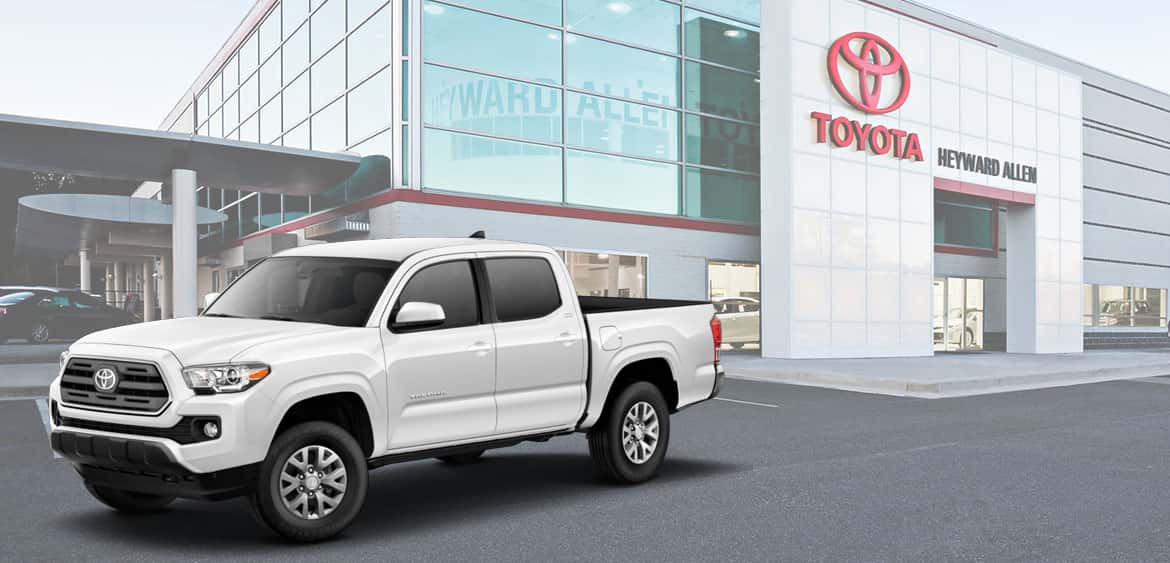 Athens GA drivers deserve the best of the best – so don't settle for less when you're deciding which pickup truck model is the ideal fit for you. Here at Heyward Allen Toyota – we stock a number of enticing models that can suit all sorts of driving needs and budgets. The truth is – not all drivers need the same things from their trucks. Some may require a high-powered work truck with high towing capacity. Others may be more interested in a smaller, sportier, midsized pickup model. The good news is – whichever sort of truck you decide is best for you, we're sure to have a Toyota truck in GA the will fit the bill.
One of our most popular Toyota truck models is our Toyota Tacoma in Georgia. With a rugged and unique design – the Tacoma is instantly recognizable wherever you go. Under the hood – this pickup sports an impressive V6 engine with ample power to handle all kinds of driving needs. Whether you're hauling your bikes on a weekend trip or just running to the grocery store – the Tacoma for sale will provide a consistently excellent driving experience mile after mile. Here at our local Toyota trucks dealership – we carry dozens of new Toyota Tacomas for you to choose from! They're available in a wide range of color options and trim levels – so you can select the one that is the ideal fit for you and your family. If buying new isn't what interests you – we also have a fantastic selection of used Toyota trucks available for you to consider. When you're on the hunt for a Toyota dealership in your area that can make truck shopping fun – make Heyward Allen Toyota your first stop.
Used Toyota Trucks
New trucks definitely have their appeal. They're often loaded with the latest available features and innovations – not to mention that new car smell! Buying a new Toyota pickup is a great move that you won't soon regret – but it isn't the only way to bring home a fantastic Toyota model. With our expansive used Toyota truck inventory, you'll find that selecting a model that satisfies your needs, wants, and budget is as simple as can be. When you buy used, you can score a terrific deal on all kinds of Toyota trucks in GA – from fully loaded Tundras to base-model Tacomas.
Of course, as with any used purchase – there are certain things to keep in mind. Unlike new models, used vehicles come with a history. This can make some shoppers a bit wary, and it is understandable that you might question the quality of used trucks near you. When you shop the used pickup selection available at Heyward Allen – you can rest assured that you have nothing to worry about. We take great care to ensure that our used offerings can provide the dependability that our valued customers have come to expect from our vehicles. Before a used truck is offered up for sale – our staff of expert Toyota technicians puts it through a range of evaluations and inspections to ensure that it is up to snuff. Trucks that satisfy our high standards are then offered to you at a great value – so you can score the deal you deserve on a pre-owned model that will provide you with years of hassle-free driving. Toyota vehicles are already some of the most reliable on the market – but at Heyward Allen, we take things a step further so that you can be confident in your purchase. Find all kinds of used Toyota trucks and many other pre-owned vehicles for sale at our showroom! To get a closer look, stop by and pay us a visit at 2910 Atlanta Hwy, Athens, GA.
4×4 Trucks in GA
When you're picking out a pickup truck – there are numerous things to keep in mind. You'll need to think about what size of engine you need, as well as any features that you can't go without. Another vital aspect of a pickup truck is its drivetrain! If your driving habits frequently take you off the beaten path – or if you want a bit of extra peace of mind – there's no substitute for 4×4 trucks in GA. With a 4×4 pickup model from Heyward Allen, you can drive with confidence in all sorts of road and weather conditions. Whether you're heading down a dirt trail or navigating highways in rainy weather – a 4×4 pickup model will have your back each step of the way. Our 4×4 options include the Toyota Tundra and Toyota Tacoma in GA – along with other used options from some of the most popular brands around. Picking out one that matches up well with your budget and lifestyle requirements is a walk in the park. Stop by today and see for yourself how easy truck buying can be.