Used Car Dealership
Used Toyota Dealerships Near Me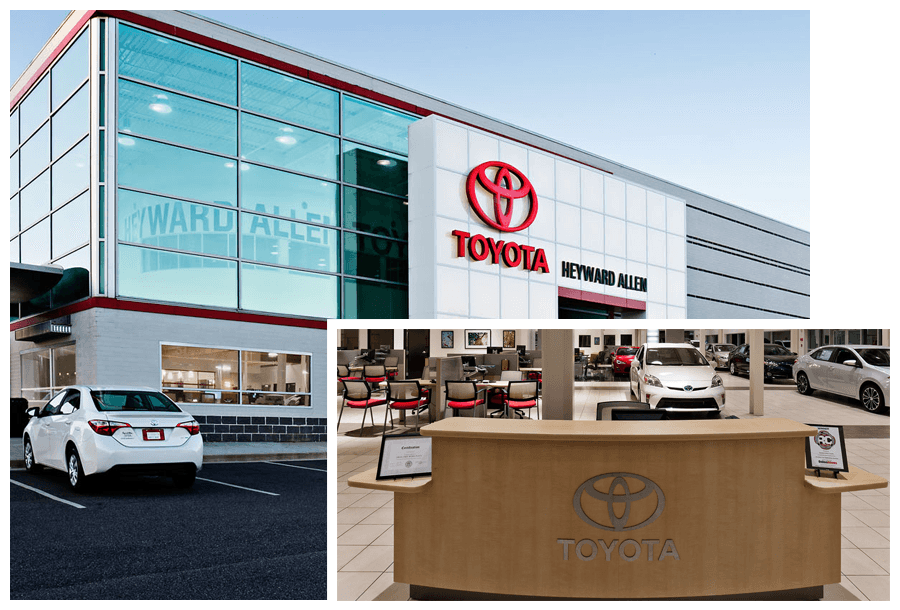 Tracking down the right vehicle at the right price shouldn't be a frustrating experience. Here at our used car dealerships in Athens, GA, we believe finding your next car should be an exciting experience. Whether you're looking for new or used SUVs for sale near you, why bother dealing with any unneeded hassle? When you make Heyward Allen your go-to automotive source, you can make your life a whole lot easier. Whatever your specific and individual needs maybe we'll do everything within our power to help point you in the right direction. Our dedicated staff works around the clock to make navigating our vast inventory a breeze. Having so many options in one location not only ensures you're destined to find the right car but also means making fewer stops and not wasting any time. Our staff is trained to give you an experience that's just as accessible as it is comprehensive. We'll make sure to walk you through what each of our new or used Toyota vehicles has to offer you. Are you finding yourself with a tight spending budget and require options that are just as reliable as they are affordable? It can be a smart move to shop for Toyota used cars, especially when you consider their tendency to be some of the longest-lasting vehicles on the road. However, it can still feel risky to buy pre-owned models from a used car dealership or private sellers. If you don't want to spend a lot while also avoiding any risks, our nearest Toyota dealership wants to help. We pride ourselves on not only giving our clients options that are affordable but also dependable. Our team of technicians makes sure to inspect all our Toyota used cars near you as soon as they arrive on our lot. Keeping this in mind, you can browse our used car dealerships in Athens, GA without feeling like you're rolling the dice. To provide our clients with further peace of mind, we also give you a history report at no extra charge. Honesty is important when you're making an investment, so why bother using someone you're not sure if you can trust? When you want to find a source for Toyota used cars that will operate with integrity in every way, be sure to come and see us. Even those looking for used vehicles for below $10,000 or $15,000 will have all the options they'll need when they visit our used car dealerships in Athens, GA!
Certified Toyota Used Cars
Buying Toyota used cars can be a smart financial move but so is taking advantage of modern advancements in automotive. For example, getting into a newer vehicle usually means having improved fuel economy, which can end up saving you thousands each year. On top of this, more modern vehicles tend to have better technology and safety features. If you're finding yourself wanting to save some money while also getting into a car that looks and drives like new, be sure to visit our used car dealerships in Athens, GA! We proudly offer a wide array of certified used Toyota SUVs at competitive prices. The primary thing that separates these vehicles from our standard pre-owned models is the selective process we go through to determine if they qualify. Models must be no older than 6 years to qualify for this program and have below 85,000 miles. As a result, you're getting a newer vehicle with low mileage at a fraction of the cost of one of the latest models.
A rigorous 160-point inspection is even performed so that we can ensure all the various components are in perfect working order. This examination even includes addressing cosmetic issues such as potential wear and tear that may have occurred over years of use.  Our used car dealerships in Athens, GA will even throw in a limited warranty as well as a 100,000-mile powertrain warranty to give you peace of mind. When you combine all this with new car financing rates, you get a great middle-ground between buying the latest models and Toyota used cars. You may even qualify for special financing rates that could potentially save you even more money in the long run!
Regardless of whether you're looking into used SUVs for sale near you or something more modern, we want to be there for you. With our competitive prices, helpful staff, and large selection, having a positive shopping experience can be simple. If we seem like the best place to shop for Toyota used cars, don't hesitate to come and see us on Mondays through Saturdays. We make sure to stay open on the weekends so that even our clients with a hectic schedule can find time to shop for a car, truck, or SUV. You can even get started on finding the right car by getting pre-approved on our website in seconds. Our used car dealerships in Athens, GA are conveniently located at 2910 Atlanta Hwy, Athens, GA 30606.