Used Trucks Athens GA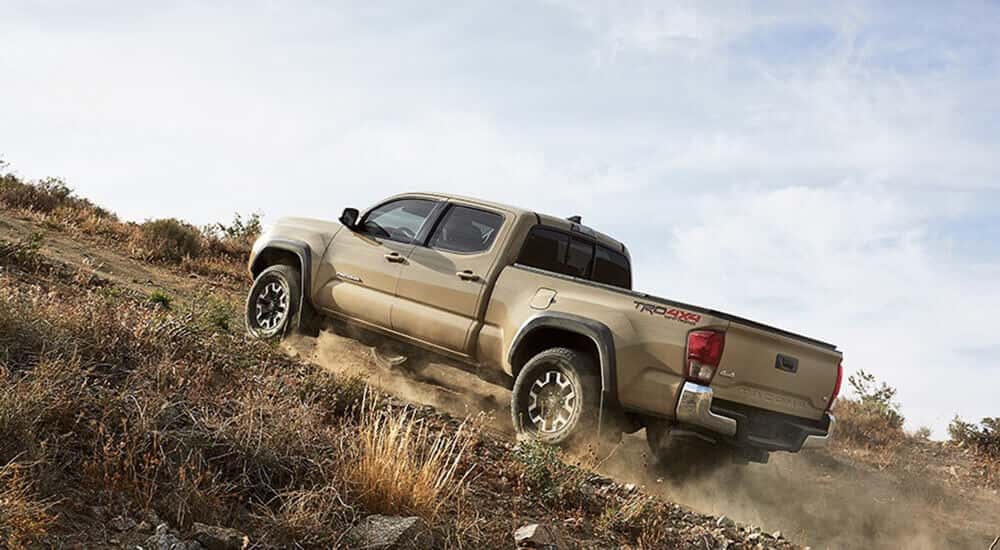 Are you looking for a way to save some cash while still getting into an exceptional pickup truck that will meet all of your daily driving requirements? If so, the selection of used trucks in Athens GA that you can find at Heyward Allen Toyota is the ideal place to start your search! We know that Athens drivers desire a wide and varied selection of used truck options so that they can find the one that is the best fit. For this reason, our team works hard to stock an exceptional array of well-maintained used pickup trucks for sale near you. The type of truck you should go with will depend largely on the kinds of driving tasks you'll need to perform. Are you someone who regularly needs to tow or haul heavy loads? If so, a powerful used diesel pickup would likely be an ideal match. If you're more interested in a versatile pickup that will perform well as a daily driver, then a mid-sized or full-sized pickup could be the answer. Whichever kind of used pickup trucks for sale you decide is right – you can find many suitable models for sale when you visit Heyward Allen Toyota!
We've made it our mission to assist drivers from all over the Athens area with locating vehicles that they will enjoy driving for years to come. When you shop at our top-rated local dealership – you'll have access to all kinds of resources that are aimed at making your buying experience as simple and pleasant as can be. Our staff will be there to answer your questions and make sure that you have all the information required to make an informed decision for your next purchase. You'll have the freedom to shop at your own pace, with our friendly and attentive team of truck experts nearby to assist you should you need it. Find the ideal pickup trucks for sale to match any and all driving situations – at Heyward Allen Toyota!
Used Toyota Pickups
Quality and dependability are two major things to keep in mind when you're on the hunt for a used pickup in the Athens area. Because used models have been driven by other owners before – it's vital to know that the one you hope to purchase is in fantastic shape. Here at Heyward Allen, we take special care to inspect each of our used pickups to make sure that they meet our high standards. Of course, some types of pickup trucks tend to hold up better over time than others. If you're looking for a used model that can offer exceptional dependability, mile after mile – then there's no substitute for used Toyota trucks for sale!
For generations, Toyota has been established as one of the major names in the truck making business. Their lineup of pickup trucks has earned an impeccable reputation for offering incredible value, with some of the best dependability around. Toyotas are built to last – and this is just one of the many reasons why we're proud to carry the Toyota name here at Heyward Allen! You may be curious which used Toyota truck for sale will be the best fit for your driving requirements. You might be interested in a sporty mid-sized pickup that is ready and waiting to accompany you on all of your adventures. Whether you're taking your bikes to the trail or towing your boat to the lake – the used Toyota Tacoma will have your back each step of the way. Packing robust V6 engines under the hood, these trucks provide ample power to get you to all of your Athens destinations. They're even available with four-wheel drive, so you can drive with confidence on dirt roads and paved city streets alike.
Perhaps you need a high-powered work truck that can keep up with your most demanding jobs. In this case, you won't want to miss the used Toyota Tundra. Offering a powerful V8 engine, these Toyota trucks can handle an impressive range of duties. From towing equipment to the job site to hauling gear for a home-improvement project – your used Tundra will be ready for whatever you may need to throw at it. As you can see, Toyota produces exceptional pickup models that offer some of the best value to be found in the Athens GA area. If you think one of these models could be right for you, or if you are looking for something else entirely, then we encourage you to come and pay us a visit in person! You can give us a call at (706) 433-0433 to schedule a free test drive. While looking at vehicles online is a fine way to conduct research, before you make your decision – you'll want to get behind the wheel and see how these trucks perform on the road!