Used Trucks for Sale Near Me

4×4 Trucks for Sale
On the hunt for used trucks for sale near you that can provide all the features you crave while staying within your budget? If so, you'll need to know where to find the premier selection of pre-owned Toyota trucks and other models in the Athens GA area. When you require a truck that offers incredible value, top-notch reliability, and more- make Heyward Allen Toyota your first stop. With our wide and varied inventory of used pickup trucks for sale near you – we offer something to fit the needs and wants of all sorts of Athens drivers. Are you looking for an adventure-ready midsized truck? How about a powerful work truck with supreme towing and hauling ability? Whatever type of used truck you might require – chances are good that there are options in our selection that will fit the bill.
We're a leading local Toyota dealer, so we take pride in offering the complete lineup of new and used Toyota trucks. Toyota stands for quality, value, and dependability – and these are things that come through in each of the vehicles they produce. Not only are Toyota trucks some of the most reliable and long-lasting models on the road, but they're also equipped with numerous cutting edge features to enhance your driving experience. Drivers of all kinds have learned that Toyota pickup trucks can offer a superb driving experience like no other – and now it's your turn to find out what all the fuss is about! We encourage you to look through our stock of used Toyota trucks online, and after you've found some models that interest you – head to our showroom for a closer look. Of course, we also carry used trucks for sale near you from other popular automakers – so there's no lack of great options when you shop for 4×4 trucks for sale at Heyward Allen!
Toyota Trucks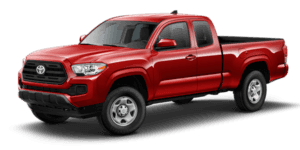 What sets Toyota pickup trucks apart from the competition? When you consider the value, high-end features, exciting designs, and top-notch performance that go into each of our Toyota trucks – it's easy to see why they're among the best-selling vehicles in the nation. The Toyota truck lineup includes a variety of models to suit various driving styles. Do you require a high-powered option that will excel at all kinds of demanding tasks? How about a 4×4 truck that can keep up with your active lifestyle? Whatever kind of truck you're looking for – chances are good that there's a Toyota that you'll love to drive at Heyward Allen.
For drivers who are interested in mid-sized, 4×4 trucks for sale – the Toyota Tacoma for sale is a much-loved option that won't disappoint. Under the hood, you can pick between a sporty 4 cylinder or a robust 6 cylinder engine to get the model that is best suited to you.
They're also available with your choice of manual or automatic transmission – so finding a Tacoma configuration that is to your liking won't be a problem. On the inside, the Tacoma boasts a roomy and comfortable cabin with numerous high-tech features to keep you connected on the go. The Entune Audio Plus system with 6.1″ touch-screen will keep all of your most important information front and center. With SiriusXM satellite radio, you can tune into your favorite stations no matter how far from home you go.
More interested in a full-sized model that can chew through all kinds of demanding tasks? Then the Toyota Tundra is the truck for you. With an impressive 8-cylinder engine, this pickup can handle a wide range of jobs from towing to hauling and more. You don't have to sacrifice comfort and convenience for performance when you go with the Tundra. The premium interior is available with leather seating and plenty of advanced features to enjoy on long drives around the Athens area. Find the Tundra or Toyota Tacoma in Georgia today at Heyward Allen Toyota!
Toyota Service Athens GA
After you've picked out the perfect new or used pickup truck for sale near you, you'll probably want to make sure that your chosen vehicle stays running in the best shape possible. With our state-of-the-art Toyota Service Center in Athens GA, you don't have to travel far to find world-class car care. Our service department is staffed with a team of highly skilled Toyota certified technicians. They have years of experience providing outstanding service to our local customers. Whether you need to drop by for something simple like an oil change or a tire rotation or bring your vehicle in for some more in-depth work – you can trust that your truck will be in good hands.
Life can get busy, and finding the time to maintain your vehicle can be a challenge. To make it simpler, we've made it easy to schedule a service appointment online. Just select the date and time that works best for you, bring in your truck and let our experienced techs handle the rest. Find the excellent auto service in Athens that you've been searching for at Heyward Allen Toyota!