Toyota SUV for Sale in Athens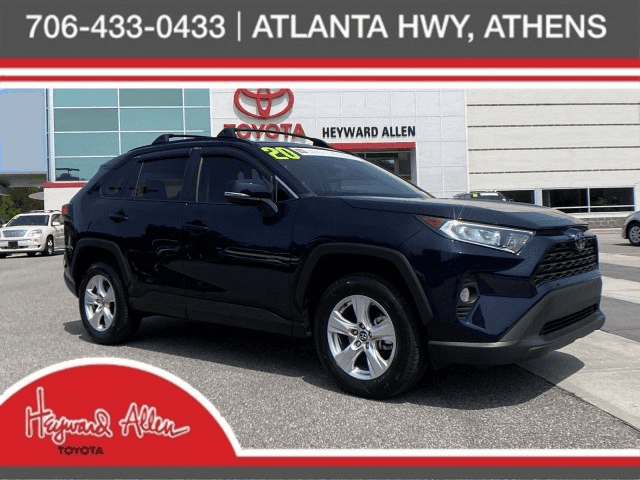 The strength of the Toyota brand is on full display at Heyward Allen Toyota, a dealership with all your favorite Toyota SUV models. Our SUV selection is one of our largest because of the sheer popularity of the SUV as a family vehicle. Almost no family can resist the charms of the SUV, and we believe Toyota makes some of the finest models in America. Pick any of Toyota's classics.
Toyota SUV for Sale in Athens
If you're already convinced that the SUV offers unparalleled safety, security, luxury, and performance for all families, then all that's left to do is take a look at Toyota's suite of enticing models. We've got them all throughout the year.
RAV4
The RAV4 has been one of the most agile, spryest of all Toyota SUVs for years, but in the past few years, it features full off-road trims that give every family the chance to go on new adventures. The model's wide range of trims also represent both economy and luxury so that you never get stuck with a RAV4 that's not just right for you.
Highlander
The Highlander's reputation as a model that's prepped for wilderness camping trips and sophisticated towing equipment is well-known. Over the years, its appearances have changed to reflect the desire to always have something new. Toyota's ability to transform the Highlander into many different SUVs over the years make it once of the most diverse of any Toyota SUV for sale in Athens. You'll always find a Highlander SUV for sale near me when you search for it. They're long haulers that stick around well after the first owner.
4Runner
If you want something enormously powerful and upscale, the 4Runner is one of Toyota's finest as well. Our used models come with a free CarFax report for your records. If you want a one-owner 4Runner, you'll almost always find it here at Heyward Allen Toyota. The model's 2020 design will usually be a certified pre-owned model and comes with a 5-speed automatic transmission and strong V6 engine.
Choose a Pre-owned SUV
Our highly inspected and top quality Toyota SUV models are available for you to browse online. Browse through what's on sale, what's hot, or what's top of the line. You'll find something brilliant in our pre-owned inventory and experience all the benefits of shopping pre-owned.
More trims to choose from
The entirety of Toyota's body of work to appreciate
More model colors to choose from
Lower down payment
Pay off your model quicker than a new Toyota SUV
A pre-owned model is right for any kind of buyer, even one not on a budget, but if you're really on a tight budget this year, you'll find tons of extremely inexpensive SUVs in our inventory this year. Check back often to see what's new in pre-owned and CPO models.
Call Heyward Allen Toyota
We love to hear from our customers. Please call us about any of our used SUVs for sale. Our team will be happy to take your questions and put you on a great path to your next Toyota SUV model.